Malware Removal For Your Home or Business on LI
We Remove All Malware Completely. Never Lose Data.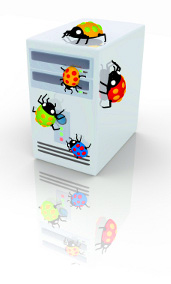 What is Malware? Malware can refer to any number of malicious forms of software or code that has been intentionally designed to perform one or more of the following malicious acts:
Infiltrate a user's computer system without their consent.
Gather sensitive personal information such as credit card numbers, social security numbers, birth dates, or system passwords.
Create back doors or remote entry points to allow hackers access to the system.
The destruction of critical data and/or corruption of system files.
Malware is a general term and is commonly used to include viruses, worms, spyware, trojan horses, and some forms of adware. The actual intention of malware can vary but by definition it is any software that is destructive by nature. Because the term malware is so broad, it is hard to cite one specific source for the most infections.
Need Help:
If your computer is already infected with a virus you may not be able to install anti-virus software or your computer has probably become completely unusable. We are here to help you remove viruses, spyware, trojan horses, malware, worms, rootkits, keylogging or adware infections. Call us, we are virus removal specialists and we can clean and optimize your system with no data loss ever.
Symptoms of Infection:
Computer runs very sluggishly or is slow to respond.
Random system lockups or crashes.
Browser redirection - Search results take you to websites you were not looking for.
Excessive number of popup windows appearing at random while surfing the internet.
You get what appears to be a legit warning telling that your system has 'hundreds' of active infections and you should buy their product to remove the infections.
Solution:
Install and download the latest signature updates for your security software and run a full scan on your system. There are a number of anti-virus / anti-spyware products on the market designed to detect and remove these types of infections. Configure your security software to perform 'active' scanning or real-time system monitoring, real-time monitoring can stop these infections most of the time before they happen.
Prevention:
Do not install software you have downloaded from the internet unless it has come from a known, reliable source.
Use caution if using file-sharing platforms such as LimeWire or torrent sites to download files.
Do not open any email attachments from unknown sources, or click on links that look suspicious.
Use a good anti-virus/anti-spyware application and make sure that it is configured to get the latest virus definitions at least daily, and scan your system at least weekly.
Be sure to visit the Microsoft update site and download all the latest Microsoft security patches.
Long Island Computer Repair
---
Over 17 years of computer repair service for businesses and homes on Long Island
Computer Repair Long Island offers your business many options when it comes to your office network security, including business antivirus and anti-spyware software. Firewall hardware and software protection. Call us today.
Looking for a computer service company that is easy To work with? If you are looking for this kind of company to take care of your small business, please contact us today. A network support professional would be happy to chat with you about how we can help you achieve your business goals.
Location
74 Strathmore Village Drive
South Setauket, NY 11720
631-805-3409